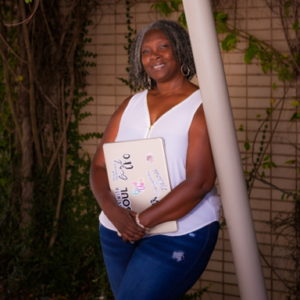 Alice Moore is the Founder of  Take My Hand Girl, Corporation (TMHG) a 501(c)(3) nonprofit organization founded in August 2022 and located in Beaumont, TX.  TMHG was founded based on her personal experiences with a non-profit based out of Sacramento, California, and wishing she could do just a little more for the young girls she met through the Much Lov 2 Give Foundation, Inc.
Alice started her career going directly into courtrooms that were based on protecting the youth.  In her 25-year career, she has managed 25-plus employees in the juvenile dependency and delinquency areas of law.  Alice currently owns and operates her own business, Moore Business Services where she provides accountability and task management.
At Take My Hand Girl, we create a secure space for girls aged 11 to 18, offering mentoring, peer support, and accountability, all with a focus on social and emotional learning (SEL). Our goal is to boost self-confidence, nurture leadership skills, and inspire a cycle of mentorship where our mentees become tomorrow's mentors.
By empowering girls to be social-change-makers by providing the tools, resources and support they need. We want to promote engagement with professionals who support their projects and their journey toward becoming social-change-makers and innovators.
Extracurricular activities provide a channel for reinforcing the lessons learned in the classroom, offering students the opportunity to apply academic skills in a real-world context, and are thus considered part of a well-rounded education.