Involving your daughter in Take My Hand Girl will include her in opportunities to develop, evolve and explore her God given gifts and talents to foster positive decision making and goal setting.  Our program's main focus is to use social and emotional learning (SEL) to nurture her confidence and self‐esteem.  Being apart of TMHG cultivates lasting friendships and positive relationships with others.
Take My Hand Girl will also help your daughter by:
Introducing her to new ideas, activities, and opportunities

Preparing her for college applications or other training

Supporting her exploration of career possibilities

Facilitating networking with successful people

Teaching her how to create a resume, and fill out a job application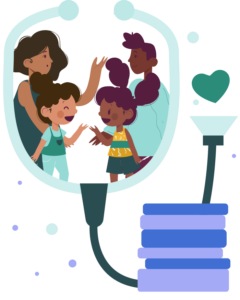 If your scholar is already enrolled, please click here --> Parent's Corner portal for additional information, meeting schedules, speakers, etc.
If you do not have the password, please email

[email protected]
Frequently Asked Questions
There is no cost for your child to participate in this program. There may be costs associated with activities and supplies.
There is an application process. Click here to apply or email us at [email protected] for more information.  Upon acceptance, additional enrollment information will be sent via email.
There are currently two (2) cohorts annually for the program participants. Each cohort is 12 weeks in duration.
At the conclusion, the participants remain a part of the program for 1 year through e-mentoring and access to the portal for as long as it exists.
We are focused on positive youth development. Our intention is to engage the youth within their communities, schools, organizations, peer groups, and families in a manner that is productive and constructive; recognizing and enhancing their strengths, and providing the support needed to build on their leadership skills.
During the initial 12-week program the participants will be asked to commit to gathering once per month for 1 hour for group activities in person; and once per month online for 1 hour to hear from various speakers or trainers. Additional time can be requested and scheduled when additional support is needed.
Our physical location is in Beaumont, Texas
E-mentoring is available for residents in Texas, California, and Georgia.
OTHER COMMUNITY RESOURCES
Organizations that provide tutoring

California Information Station

Georgia Information Station

Texas Information Station